PART of the evening's outgoing kit mail
Gimme an E! Gimme a GAD! What have you got? A boatload of freakin' tulips apparently. We've been inundated with orders for Dream in Color's Tulips Sweater for babies. Stephanie Pearl-McPhee blogged about this little ditty at Yarn Harlot a time or two, and the blogosphere appears to have lost it ever-lovin' mind. God knows I'm a whore, though, so of course, I put together another eight colourways. We've already sent several, we've got two mail tubs of these bad boys going out in the morning, there's still a list of folks waiting for them (they're being wound off into smaller balls for kits since eight balls of the yarn as it's originally skeined would have cost about $132; we're selling the kits for $32), and the orders are still flowing in.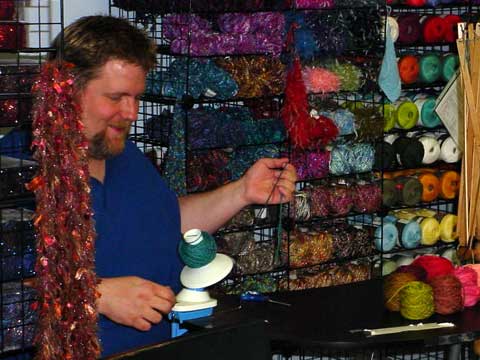 Herr Doktor winding yarn off for kits
I'd planned on visiting my mom in Georgia this week, but with this, a rep visit tomorrow, a 7-session design class I'm teaching starting Friday, a July visits from Jillian Moreno of Acme Knitting Company and Amy Singer of Knitty and No Sheep for You (co-authors of Big Girl Knits) to plan for, and one of our monster Yarn Tasting events a couple of weeks later, I'd feel like a total shit-heel running off and leaving the work to Rob.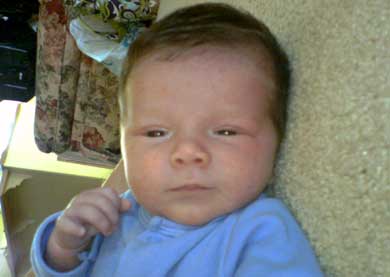 Plus, Annie Modesitt of modeknit and mother to Max-of-the-broken-bowl (yeah, yeah, and all that other magnificent stuff, but really, it's all about the haircuts, no?) is here in early August (the three days following the birthdays of my sister, Deb, and her beautiful first grandchild, Carson). I'm happily swamped, I suppose, but swamped, nonetheless. My mom is recovering from surgery after a recurrence of ovarian cancer, and I'm feel particularly crappy about bailing on her, too, so if you've got any good vibes in you, aim them for the 30240 zip code in west central Georgia. She'll take all you can get her. Her prognosis appears to be fairly good as far as cancer goes… particular the ovarian kind, but if you ever need a major kick in the rubber parts, let someone tell you your mom has ovarian cancer. It's a doosey.
*sigh*
So, here's something a little less grim. My family's recent dose of reality has me on a major get-yer-shit-together kick. Having just returned from an awesome TNNA Market complete with nice visits with friends (Hi, Kristy!! Hi, Sharon!!), Rob and I have had a little heartfelt nuclear holocaust turned life-altering recommitment. True, we've always been good for the apocalyptic stuff, but the other bit's something of a change. Pleasant change, too. We've got a guest in the house coming in later this evening, and I had one of those decidedly inconvenient moments when I decided that everything in my bedroom had to be destroyed. I managed to channel it into a brief semi-purging of the shelves over the bed, but the Arrival ball will hit shortly. It has to. I have an awesome view of the Grand River and downtown Lansing (no snickering, it's actually pretty from a distance), but the entire room looks like a really nice dorm room for a really sad geek with no life… Oh, shit. That was a little too close for comfort. Anyway, that's gotsta go. Everyone knows me for color, and I live in parchment colored walls out of cardboard boxes that weren't completely unpacked after our last move three years ago. No. Not gonna happen.
Mary's little boy has had just about enough. And he couldn't be happier about it.