You know, I'd love to apologize, but frankly I've had entirely too much fun to even attempt to be sorry for it.
Yes, I've been gone for a little while… ok, a long while. I haven't been sick, nor—to my knowledge—have I been dead. I've been busy. And I mean busy.
Actually, I started a post just after Easter that never made it past the cutting room floor because I got busy with other stuff, but I just had to go back and share the photo that Rob found.
Atlanta Journal-Constitution
"Festive hats lend color to Easter"
Stirgus, Eric. 21-Apr-2003.
This, friends and fiber freaks, is Ms. Ruby L. Hunter pictured on the patio of Mary Mac's on Ponce de Leon Avenue in Atlanta on Easter morning. She appeared in Easter Sunday's Atlanta Journal-Constitution, and all I could think of is that she and her awesome headdress are two of the myriad things that I miss about Atlanta. God knows it ain't always the best place in the world to live, but there's fun and color and diversity and adventure everywhere. The weather in the MidWest can be very, very pleasant, but sometimes I could seriously deal with a little more flavor.
So while I may not get that particular post out to you, please join me in a ringing chorus of, "you go, Miss Ruby!."
ThreadBear is doing gangbusters business, folks, and frankly, I've had little time to breathe much less blog. But I've decided that I'm instituting a new policy. I blog at least three times a week regardless of the falling sky. If it doesn't crush me, I'll keep typing.
Oh, before I forget, my apologies (ah, I knew there was at least one in there somewhere) to LocQueen for whatever I've forgotten. I'm sure she'll let me know. And my apologies to QueerJoe. I really do want to work on the color block colorway, but my personal projects are put on hold right now until I can get caught up with business projects. Expect to hear from me regarding the colorway toward the beginning of next week if that isn't too late. Again, I'm sure you'll let me know.
As for everyone else, OH MY GOD! YOU PEOPLE LOVE TO KNIT!! That's so cool!! I LOVE all of the color ideas you're throwing at me, and I'm having the time of my life working with all of you on your color ideas for your projects.
We got in quite a bit of Koigu and Noro about a week ago… actually a little over a week, now, and people have been going crazy with wonderful ideas for projects. Personally, I did have to start a Koigu "Charlotte's Web" shawl to work on during our group visits around central Indiana and classes/functions here at the house. It's gorgeous, if you haven't heard of it. It's a somewhat lacy shawl knit in five different colorways of KPPPM. Here are the five skeins that I chose: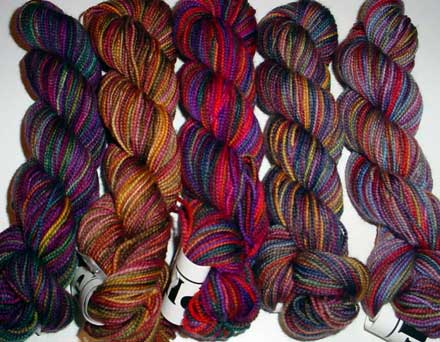 I've never knit lace before, and while it really isn't terribly lacy, it is one of those patterns that can't be ripped when you have a mistake. You have to unknit each stitch. Given that I've also never knit from a chart (other than color knitting), I've been doing a lot on tinking (unknitting, get it. knit spelled backward… yuk-yuk-yuk… <sigh> yeah, I know. I'm a dork.).
Anyway, this is also my oh-my-god-when-is-the-Ashford-order-going-through-so-I-can-get-my-wheel-and-start-spinning-for-real project. I've ordered an Ashford Double Drive Traditional and a jumbo flyer unit. The wheel comes with four bobbins, so I'll get a few more of those and a precision lazy kate because I'm very interested in playing with plying. You'll see what I'm talking about when we get there, but I promise, it won't be boring.
A few other local spinners and we are going in together on a drum carder. I'm particularly interested in this purchase, because since Fleece Fair that I blogged recently, I've been dying to get back into dyeing. I'm especially interested in dyeing roving in solid or nearly solid colors then carding different colors together into a multi-colored top. (Hmm… Is that the correct terminology? Help me out here, experienced spinners.)
Anyway, the groundhog (that's me) has come out of his burrow (that's my office) and not only has he not seen his shadow, he won't be going back into the burrow to stay. I'm awake. I'm out. And like it or not, I'm not going anywhere!