In the words of Pepe le Pew's most feline paramour, le pant, le puff, le pant, le puff!
We're getting there. Really, we are. The big move is days away, and we're working our collective tuchus off. At the end of the day, there's not a lot of brain juice left for my knitting. So following in the enormous footsteps of the 50-foot woman, I've been keeping my needle muse happy with a beautiful yarn in patterns for window-lickers. You know what I mean… super-simple patterns that let the ungodly gorgeous yarns we have access to speak for themselves.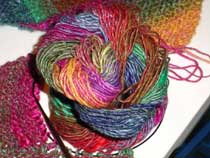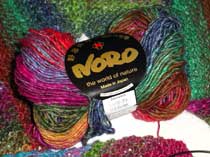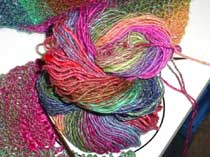 So here's the yarn. Noro Silk Garden has come out with a new Rainbow colorway. Yes, I know. Noro doesn't give their colorways names. Well, it does have a number; it's 87. But it does have a name, too… and with good reason.
There is a myriad of colors squeezed into this one little skein of loveliness. I've never knit with Silk Garden myself, but I'm in love.
As for the pattern, it's Karen Baumer's Multi-Directional Scarf pattern that's widely available around the Web. Basically, there's one increase and one decrease in every row, and that's it. No other shaping. How does it look? See for yourself.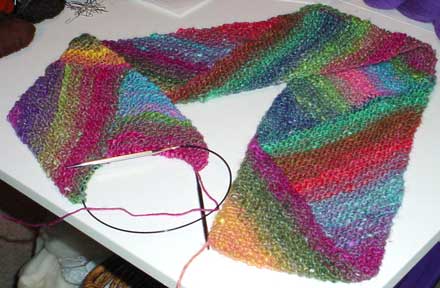 Personally, I think it's gorgeous, and I'm particularly enamoured of Rob's version in one of the new Kureyon colorways. Tate? He's not so impressed.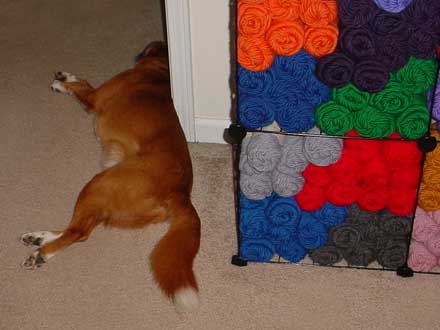 …sigh…
Ok. Back to work!
Much love, folks. I'll talk to you soon.