How do, everyone?
Glad to be back among the mostly living. I'm busy-busy as we near the moving date, but as Rob mentioned at Black Dog this morning, there are some things in the works.
First, yes, we sat around and watched TV with our friend Christy last night. She's been as busy as we have, and our paths just haven't crossed much lately, so it was great to have her over for an evening. As Rob mentioned, we did watch the Designing Women Reunion Special, and growing up gay about an hour outside of Atlanta, I know the show and the settings like the back of my hand. So, of course, I had to follow the link above that Rob posted straight to the "Which Designing Woman Are You?" questionnaire. Again, as a devotee, I had no question, but it was nice to have it confirmed.
I am…
That works. I'm an Annie Potts fan from way back.
So, given that I was living room all evening, I spent my time spinning some of my hand-painted Targhee top. Oh, my. I love it. It was actually one of my least favorite dyeing jobs, but it looks quite snazzy on the bobbin.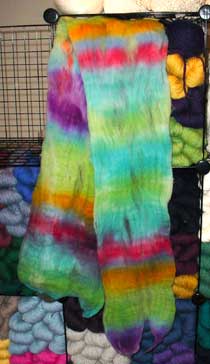 This is the two-ounce bump that I originally posted on June 23. It was pretty, but I really liked some of the other stuff that I did that batch more.
The colors are mainly an aquamarine kind of blue, some pale green, a few patches of purple, and small bits of gold, red, and darker blue.
Below, see the spun fiber on the bobbin. I've still got about half of the bump to spin, but I really, really like the way the colors are meshing. I was concerned with the thought of selling this before, but I'm very excited about it, now. I'll be in the kitchen dyeing this weekend!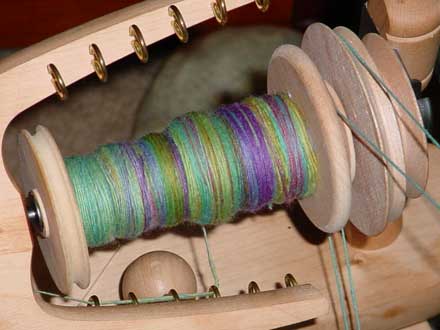 I've also been trying to perfect the Sigma Jumper. Unfortunate name, that, and it's going to have to change. The American connotation for jumper just isn't what I was after. It's a top-down pullover in the same vein as the Sigma Tank, so I guess it will be the Sigma Pullover. I really don't like some of the other patterns I've knit trying to find the issues that I want ameliorated in my design, but I have had some good luck with fabric.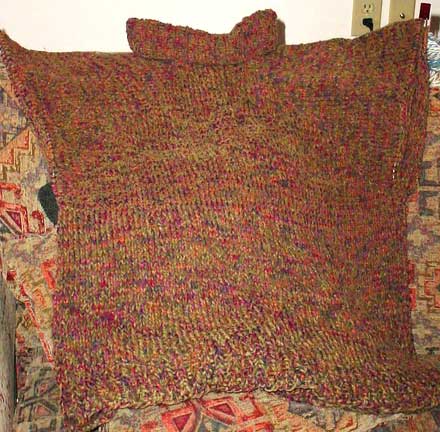 This one is knit with one strand of cotton chenille and two strands of variegated cotton thread, and I love the way the colors pop out of the soft green, but I don't like the raglan lines.
It's way too snug at the neck. This particular pattern also provides no additional fabric at the back of the neck for back/front shaping. That's kind of icky. Sigma will have to correct that.
Oh, I also plied some of the Lorna's Laces top that I've been spinning.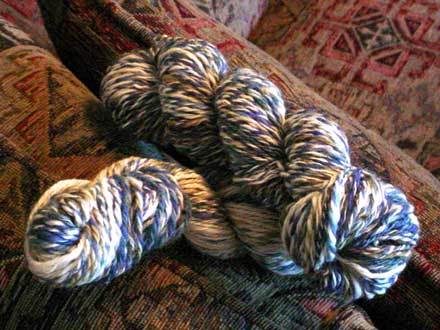 The colorway is Seaside, and it's quite sharp. I'm going to have to have some socks out of the same colorway of Shepherd Sock, but in the meantime, I have to finish up the spinning of this stuff.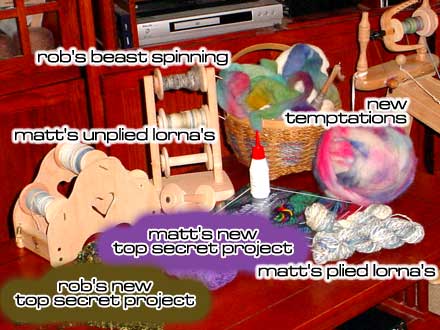 There's maybe an ounce each of the Lorna's and my own top to spin yet, and I've only plied the two skeins of Lorna's. Rob's started spinning, too. He spun some Beast over at our friend Patsy's this weekend. I'll have to post pics as soon as I can get to them. They had a nice little going-away toast for us, and we all had to get a little sentimental. Of course, then we went back to spinning and watched Tate play with Patsy's new feline fellow, Baxter. As I said, pics will follow, but for now, here's the Little Man… Tate.
I know Rob's shown you pics before now, but I still think he's just adorable. Of course, Connor and I have shown him bad habits like eating too much and shedding on furniture, but he's doing just fine. I posted twenty "FOUND DOG" posters around the neighborhood this morning and took them around to vets' offices and shelters, but no one has heard anything, yet. I'm trying not to get my hopes up, but it's starting to kind of look like there won't be some great reunion.
It's been absolutely blow-the-doors off busy around here, otherwise. Not only have orders been coming in non-stop as usual, but we've also been building stock for the shop. If you've ever seen some of the past shots of the shop, you may need to sit down for what's going to follow.
Say goodbye to W. Allen, folks. We're bursting at the seams.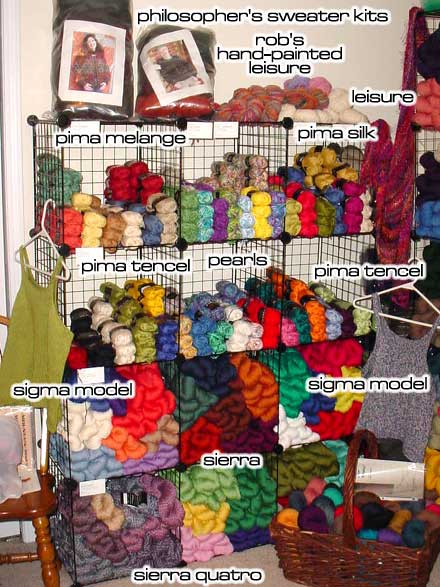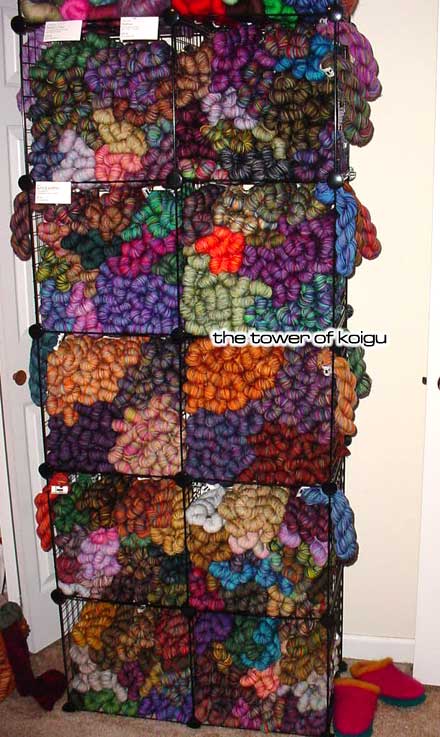 Also, as Rob mentioned earlier today, ThreadyBear is on it's way. I've got to contact some test-knitters yet, but it looks good for a late August/early September start date. I'll keep you posted.
Much love, people. And enough of everything to keep you.