If anyone ever tells you that working from home is a breeze, just go ahead and punch them in the mouth for me. I am keeping a decent sense of humor about it, but wow, where does the time go? I've been going nonstop since about nine this morning, and I'm just getting to a break-even point. It's now, twenty-til-two.
That aside, it's been a pleasant day, I've gotten quite a bit of organizational work done, and I even got to sit and knit for a couple of hours last night after brushing out mohair fluff on Rob's prolific hat production of last week.
I really am happy with the way my toe-up Aslan socks are coming. I wish I could spend more time on them, but… well, you do what you can.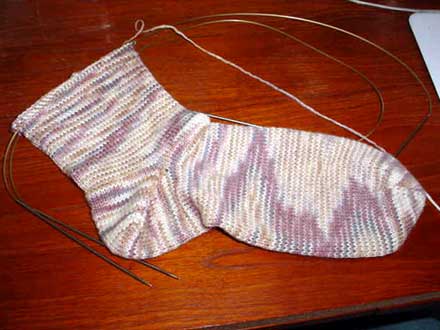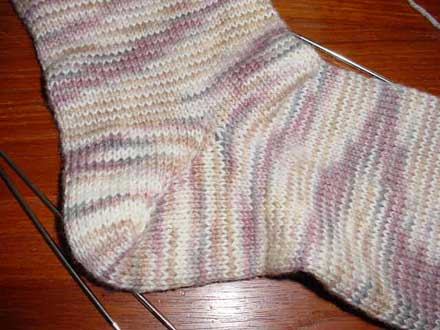 I really like Wendy's short row toe technique, and using the same exact procedure for the heel is just as nifty as it can be.
And for those of you keeping track, here's the other foot… mostly done and a little worse for wear, but it won't be long before I have my very own first pair of socks knit specifically for myself.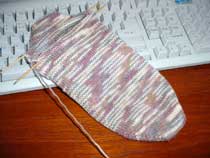 WAIT A MINUTE!!
Was I just grousing about working at home? First of all, I love working at home, and I'm grateful for the ability to do so.
Second? Heh-he-he-he… We just got two shipments. Wanna see what's in em?
Mmm… Jamieson Shetland DK.
10 skeins of Moorit for a customer in Columbus, Indiana, and…
…a little bit of open stock. 15 Skeins each of Hyacinth, Ivy, Madder, Oxford, Scotch Broom, and Sunrise, and…
…single skeins of Aubretia, Burnt Umber, Clover, Flax, Gentian, Loganberry, Pacific, Pot-Pourri (their spelling, not mine), Prussian Blue, Purple, Stonewash, and Yellow Ochre for designing.
I am so in love.