Some of you know by now that I've been in a romantic relationship with a man from Egypt for the last few months, but serendipitously, just days before we met, I was asked in the spice shop where I work part-time for an Egyptian spice blend called Dukkah which we don't carry and I'd never had.
After a little Google-based research, I decided that day that I wanted to develop a recipe of my own. Well, then I met Adel, and pretty much everything flew out of my head for a while. But, I did make a stab at it back in December. This recipe was developed immediately after I tasted the first batch.
This batch didn't turn out exactly as I'd hoped, but it's still delicious. Here's are the quantities of what I used by weight (since some of the spices are hollow, volume seemed a poor way to balance things).
125g of pistachios (though hazelnuts are more traditional)
50g sesame seeds
25g cumin seeds
25g coriander seeds
25g fennel seeds
15g black peppercorns
and a generous 1/4 teaspoon of kosher salt
I toasted each of the ingredients separately (each cooks a little differently) in a dry skillet on medium-low heat only raising the heat when it seemed safe to do so without burning the spices. As each came off the heat, I let the skillet cool a bit and lowered the heat before putting in the next spice. To be clear, I toasted the nuts as well.
In a mortar and pestle, I then ground each of the spices to a lightly coarse powder but left some pinhead to lentil-sized chunks of the nuts. Refer back to the closeup of the finished blend for reference. That's a table teaspoon (as opposed to a measuring teaspoon) resting in the bowl.
Also, I'm grateful that I kept the numbers at mutliples of five, because I'll be able to scale this back on the next prototype.
My personal opinion, I want to increase the quantity of coriander seeds and drop the fennel and peppercorns in the next batch, and I've now acquired some hazelnuts, so the next batch may be all hazelnuts or a blend of the two.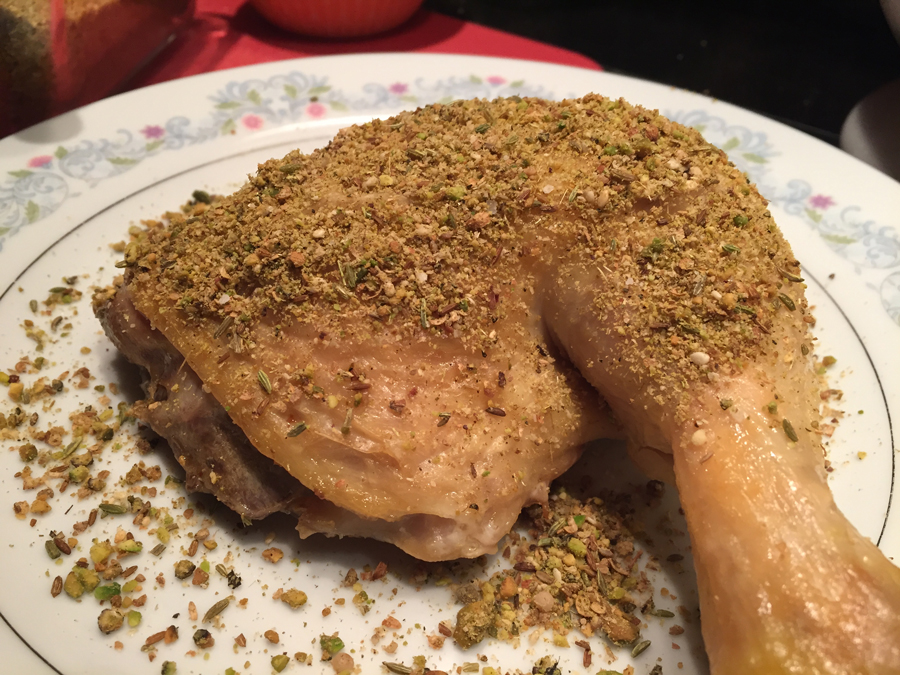 Regardless, I have leftover roasted chicken that will be doused liberally with this prototype and served with some veggies for my dinner tonight.