Sorry to play Eeyore, but as long as we've been absent, it is a bit surprising that so many people noticed that we've posted again recently. Thanks. It's nice to be missed, it's nice to be welcomed back, and it's just plain nice to be back among you.
I was doubly delighted to recently hear from friends and customers of ours from our days in Indiana. We recently had a visit from our friend Deb who just recently disappeared from our business site's front page (she was the model for Ingeborg), and I just received an e-mail from Jen who remembered my affinity for Olivia and thought of me when she saw a new set of stamps.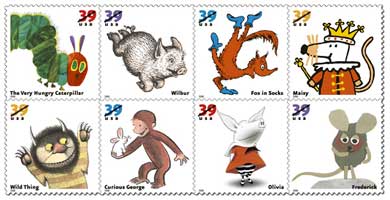 Aren't those awesome? I can't wait! Of course, I'll just have to wait another decade or so for my other favorite to be reissued.
Much love, folks.
-Matt.