Ok, folks. The Charlotte's Web Shawl colorways recently posted are all pretty much out of stock. I might be able to come up with something similar, but we're been inundated with orders on those specific ones, and those dye codes are all but gone. I'll post more soon to satisfy those hungry for more.
In the meantime, I'm working away on color work for folk, so if you are already in the queue, I'll be with you shortly.
We met with our potential new landlords last night, and it looks very good for a May move-in. Will it mean delays on an already taxed shipping backlog? Well, yes, frankly, it probably will. Does it mean that we're not still taking orders? Heck, no. Send 'em in. We'll turn them around as quickly as we can.
That said, we've had several calls from folks interested in making Girl From Auntie's Rogue in cotton. Sounded reasonable to me, so we started poking around at what we've got. One of the most reasonable options would be Classic Elite Spotlight at $3.60US for 92 yards. At that price, even the largest size would be under $65US for the largest pattern size. Classic Elite says that you should be getting 4.5spi on 7US needles, so the weight is perfect. Here's the palette of what we have currently in stock.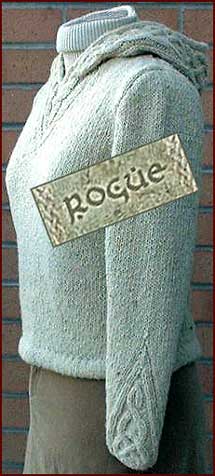 But that's by no means the only choice we have to offer.
Personally, I'd be interested in trying Classic Elite Sand. It's a richly textured cotton that knits at 4spi on 8US, and at 77yds for $5.67US the largest size would cost just under $125, but if you could make gauge on it, the knit fabric is gorgeous in cables.
With flash
Without flash
Sample Sand sweater from Classic Elite in a dark corner
Detail of sample sweater (color desaturation from image brightening)
Closer detail of sample sweater
Now, I truly don't know how Sand would look at 4.5spi, but obviously, it will hold a cable. I've seldom seen a cotton look more like a rustic wool. I just think this yarn is beautiful. I'm really looking forward to expanding our offerings of the line.
Other options include:
Rowan All Seasons Cotton
4-4.5spi on 7-9US
$7.95 for 98 yds
$135.15 for largest size (17sks)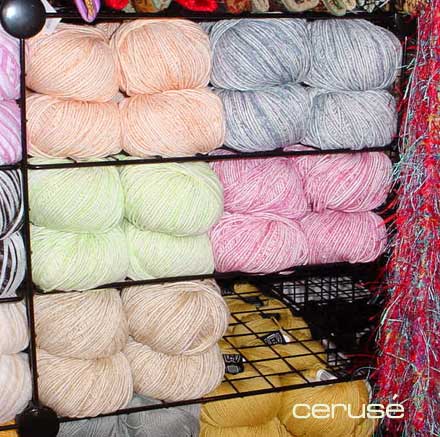 Plassard Cérusé
5spi on 6US
$8.91 for 120 yds
$124.74 for largest size (14sks)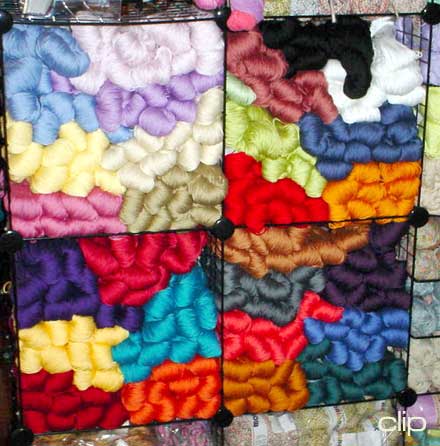 ONline Clip
5spi on 4-7US
$11.21 for 182 yds
$112.10 for largest size (10sks)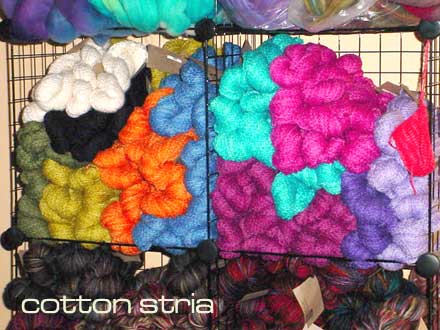 Manos del Uruguay Cotton Stria
4.5-5spi on 4-6US
$7.20 for 116 yds
$108.00 for largest size (15sks)
KFI King Tut
4.5spi on 7US
$9.00 for 182 yds
$90.00 for largest size (10sks)
Ok… Obviously, I had to cheat a little in Photoshop to get a decent shot of the King Tut, but it's as true on color as I could get it.
I'm sure there are more, but those are the most overt options that fell of the shelf at me.
Hogs & quiches!
Matt.