Have you ever come to one of those times in your life when you felt like all of the work you'd been putting out there was really starting to come back to you? Liberating, isn't it?
Have you ever had a secret that you were monumentally excited about but hadto keep under wraps? Remember how you felt when you could finally shout it?
Well, as most of you know, ThreadBear has had us bursting at the seams for months. I've had almost no time to post entries, and even my new wheel isn't nearly as broken in as I'd like it to be. Connor has gotten so used to us being gone every evening for some event or other, she positively clings to Rob (and me, but she's definitely Rob's baby) from the moment that we come in the door until…well, she always clings to Rob—to the point we've dubbed her Speed Bump. One doesn't just turn and start walking in this place anymore. You're apt to trip over about eighty pounds of dog.
A few weeks ago, our landlady mentioned that they had a space for rent just next door to her office here in Bloomington, Indiana. The space is smallish, but it's about a block off of the courthouse square in downtown Bloomington. We'd be just a few blocks from Indiana University, too. The rent wasn't high, but between what we're already paying for rent at home and what that space would cost us, well… let's just say the combination is prohibitive.
Rob and I talked about it that night. It sounded good, but the money was a serious issue. We sort of tabled the idea for the time being, but we came back to it several times over the next few days. Then one evening, our friend Helen called while we were discussing this. Rob answered the phone, told her what we were talking about, and discussed the whole issue with her for a while. By the time they got off the phone, Helen had given us about four-hundred-some-odd reasons for opening a shop in her hometown of Columbus, Indiana instead.
The following day, Helen and another friend call us from the car. They're riding around Columbus jotting down the telephone numbers of every commercial space for rent in Bartholomew County. We laugh, but it's both gratifying and exciting. Within forty-eight hours, we come up with something. Another friend and client of ours in Columbus, Cathi, has a brother, Jim, who is trying to convert a two-story early twentieth-century house from duplexed apartments back into a single-family rental unit. The neighborhood itself is on the leading edge of gentrification, and the house in on a corner lot overlooking the neighborhood. There's a small yard, and there was already a small cigar shop that Jim and Cathi are running on the back of the property facing the side-street, so zoning shouldn't be an issue.
We stop by, meet Cathi, Helen, Jim, and his wife (another of our novice knitters) Amy, check the place out, and discuss the kinds of things we'd all like to see done to the place if we were going to put a shop into the building. Of course, we'd supply a lot of the TLC necessary to bring the house back to life, and Jim is very amenable to opening up the house by breaking down the walls that separate the apartments. There are several other things that need to be done, but basically, we all agree to think about it, and get back in touch.
To make a long story short, we're doing it.
We made the announcement Sunday at our Open House, and Rob is talking with Jim today. From here, we have a whole lot of packing and a whole lot of planning to do.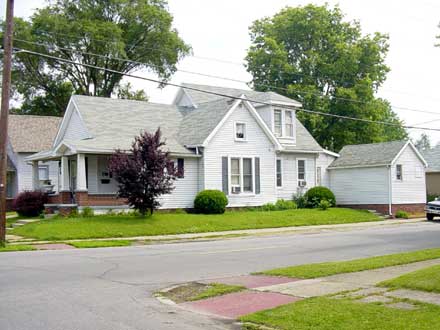 The house is two blocks off of Hawcreek Boulevard or IN-46/IN-7 in Columbus, Indiana, and IN-46is an exit off of I-65 going through Columbus. We'll be about 30 minutes from Franklin, 50 minutes from Bloomington, 50 minutes from downtown Indianapolis, an hour-five from Ellettsville, an hour-fifteen from Louisville, an hour-forty-five from Cincinnati, two hours from Brazil, two hours-twenty from Dayton, three hours from Evansville, three-and-a-half hours from Olney, Illinois, five hours from Lansing, eight hours from Atlanta, ten hours from Toronto, ten-and-a-half hours from Annapolis, twelve hours from New York, twenty-three hours from Grand Junction, Colorado, and about forty-eight hours from Calgary.
Does that about cover everybody? Louise, if you want travel times from France, contact your travel agent.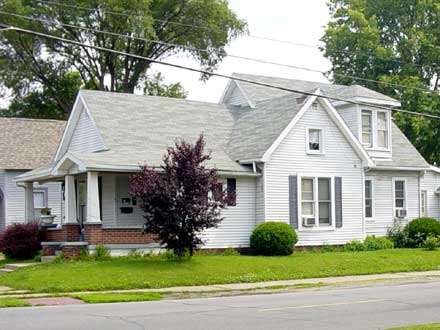 Well, obviously, she needs a little love. This is the main part of the house. Jim's having central air installed, so the window units won't be there, and the whole house is being pressure washed to reveal the white underneath. I swore it was grey to Rob and Helen, so here's my public apology. It's white. It justlooks grey.
I'm very excited to have a front porch again. I'm looking forward to dragging a wheel or a loom out there, but there will have to be a rocker or two, too.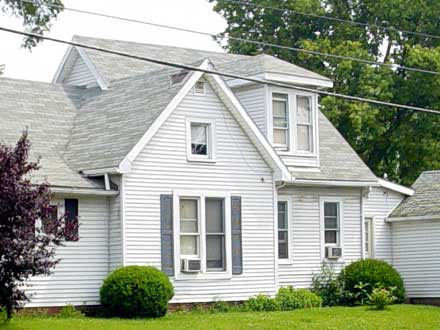 I'm brainstorming madly for what to put behind the big double windows, but something will come to me certainly. There are actually a couple of back exits, but now that Dolores is in Colorado, we shouldn't have to worry about frisking anyone! (Just teasing! PLEASE come for a visit!! We'll make desserts! Chocolate, even.)
Ok. That's enough for today. I've got to go to fill orders. If you've got an order pending with us, know that I'm on it. But obviously, we've had some pretty hefty distractions! 😉
Much love, people!
Matt.