Guten tag. Connor doesn't quite appear ready for the day, but we'll trudge on, regardless.
By the way, I'm so not German. I'm just a language freak. If I could figure out how to use a Cyrillic alphabet online, I'd offer Russian salutations, but my French is dangerously rusty. Sadly, it's better than my German, but I remember guten tag und guten morgen und guten nacht, so for now, that's what you get.
As for kah-nittin', the Asymmetrical Vest comes. I pictured it inside out on my last entry, but here it is correctly displayed. I've knit across one front panel, all the way across the back, turned, and started back across the second front panel. Obviously, I've only got a few rows on the second front panel, but I've rounded the last bend and am coming in to the finish line.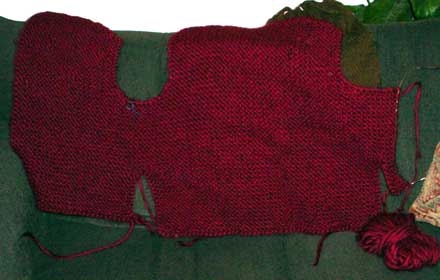 As for my next project, well, I do need to finish up the Aslan Socks, and I do want to finish the sleeves on the High Helen Sweater and get that together, but some little devil has been trying to tempt me. Teresa of One More Row and Another Latte sent me her Rosecalie swatch. She and Rob (Black Dog) conspired to get this to me because they both know a) how much I loved Teresa's, and b) how much I'd like to make one of my own. So off to the mailbox I trot yesterday, and lo and behold, I suddenly have a piece of one of the most gorgeous sweaters I think I've ever seen… in my hands… where I can touch it… where I could smell it—if I were so inclined. *ahem* Anyway, of course, I came in and fired off a missive to Ohio to both thank and threaten Teresa for my beautiful and heart-wrenching gift.
I've had my eye on these four colors of Cascade Sierra Cotton-Wool blend for a Spring Fair-Isle Vest. I haven't come up with the design, yet, but I'm thinking that might just be the one to repay the favor. So what do you think, Ms. T? Do I have your attention?