Cookie A teaching at ThreadBear
We had a great visit with Cookie A last weekend. Her classes appeared to go well from the outside, but we had genuinely glowing reviews from the folks in the chairs. From my own perspective, it was wonderful to actually get to spend a little time with her. We've met several times at busy industry events where one seldom has more than a few minutes to get what you need, make a little small talk, and move on, but this was the first time we had a real conversation. I hope she had fun. For myself, I was charmed.
One of the things that we discussed was her great regard for Cat Bordhi's Visionary Retreat for prospective authors. Cat had suggested the retreat to me over sushi during her visit to ThreadBear in August, and while I was certainly intrigued, I'd back-burnered the idea in the face of the heavy-duty workload that I've set for myself at ThreadBear over the year or so. Cookie's obvious reverence for the experience, though, gave me the incentive to pull that idea back onto high flame. No, I won't be headed to the island this year, but I'm definitely blowing the dust off the designs and concept.
Along those lines, I'm pleased to say that I've finished the School Days Pullover pattern that I wrote for the CAYSC Back-to-School Shop Hop that ThreadBear participated in at the beginning of September. We're in the process of culling the e-mails from the backs of everyone's passports, and they should be sent out next week. I've already got a couple of people knitting from the pattern already, so if any problems crop up, I'll be sure to let you know here.
Since this is supposedly a knitting blog, I suppose you might like to see what I'm working on.

Totally Tubular Sock Construction in Opal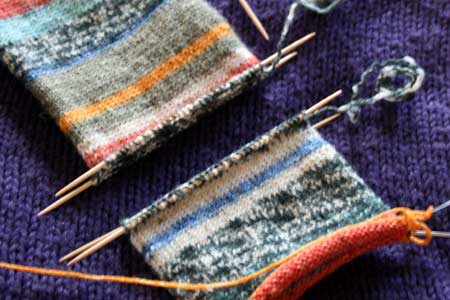 Totally Tubular Sock Construction detail
This is a model for a class that I've just scheduled called Totally Tubular Sock Construction. The idea came to me as Rob and I were packing to go to Long Beach this January for a trade show. Since Rob and I tend to be squeeze in pretty tight on planes, I thought a very compact project that didn't require a lot of thought would be ideal. I also had a beautiful skein of Colinette Jitterbug that everyone had told me wouldn't make a pair of socks in my size. So, I cast on the number of stitches that I'd normally use to make socks for myself, and just started knitting. I didn't worry about cuffs, heels, or toes. I just knit.
Over the course of the trip and trade show, I had a very simple project that I quite literally was able to walk the trade show floor working on. I had tons of people within the industry—designers, vendors, and other shop owners—ask me what I was doing, and when I explained, it was as if I'd told them the sky was falling. "Why go to all that trouble?" they asked.
Well there are a few reasons not the least of which is that I don't own a pair of my own hand-knit socks. I own several individual socks, and I have no compunction about wearing any two of them. I've had more than one person genuinely delighted to see my mismatched hand-knit socks, and frankly, I enjoy the silliness of it. But I really would like to have pairs. And I do suffer from Second Sock Syndrome. If I've already knit one sock in that yarn, casting on a second one sounds like the soul of boredom.
This way, I only cast on once, and by the time I'm done with the original tube, I have all of the basic fabric for both socks, and all I have to do is the fidgety bits that are really the most fun for me, anyway. Where's the downside of that? Yes, I wind up picking up stitches, but if you've ever worked an afterthought heel, you can work an afterthought toe and cuff. It's not hard work, and it doesn't require a lot of brain power. Yes, in the pair that I'm currently working on, I did start off with a cuff, because I hadn't intended to make this pair tubularly, but as it happened, it became convenient to do so. I also added some calf shaping, but the essentials are there. As for the Jitterbug socks? Well, I had more than enough of the Jitterbug for the body of both socks, and decided to use another technique to jazz up the cuffs, heels, and toes, but that's for another post.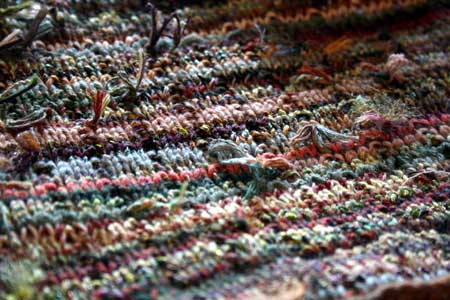 Detail of Chris Bylsma's Symphony Jacket in autumnals

Working ball of yarn(s) from Symphony Jacket
Also on the needles, is Chris Bylsma's Symphony Jacket. I saw this garment on Chris, and I was immediately smitten. I love blending yarns anyway, and this project is the perfect canvas. The basic idea is picking a palette of yarns in various colors, textures, and fibers that suit the project and chopping them into bits and tying them back together. It sounds a bit crazy, but the results… well, judge for yourself.

Progress on Chris Bylsma's Symphony Jacket in autumnals
And finally, I'm knitting Elizabeth Zimmerman's Tomten Jacket as inspired by Franklin Habit. Franklin's coming to ThreadBear in January to teach the class and for a book signing for It Itches, a collection of his knitting-related cartoons. I'm loving the project, and I'm having a lot of fun watching the Jojoland Rhythm migrate through colors.

Elizabeth Zimmerman's Tomten Jacket in Jojoland Rhythm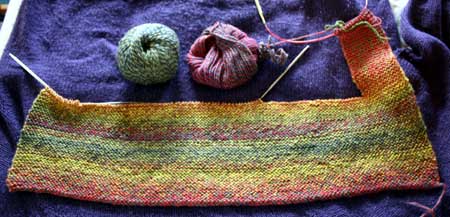 Elizabeth Zimmerman's Tomten Jacket in Jojoland Rhythm