Our Third Thursday Dinner and Knit Night was last night, and the theme, for those of you who hadn't already heard, was My Big Fat Greek Thursday. Rob actually took the day off, and he and I shopped, chopped, diced, cooked, and even managed to breathe once or twice from about nine in the morning until folks started arriving about six.
Thankfully, our very good friend (maybe she should be upgraded to goddess after yesterday), Christy, came over immediately after work with extra ice and started pitching in downstairs while I ran upstairs, showered, dressed, and started cleaning the yarn rooms. Christy, if you ever need a kidney, I'm your man.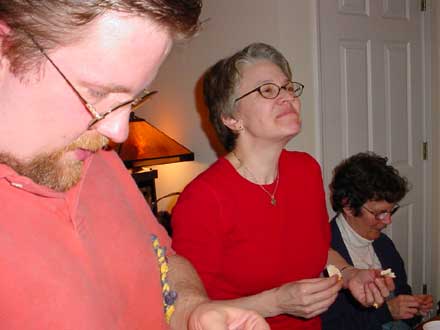 Well, an incredible time was truly had by all. And of course, Rob will be blogging the menu at Black Dog. If you're ever in the area around the third Thursday of any month, do consider stopping by. I can honestly say that I don't ever recall us having a bad time for Third Thursday, and frankly, I think Spring has given Rob a new energy in the menu. Last night may well have been the most incredible meal yet, and due to my own limited involvement in the cooking aspect of the evening, I can say guilt-free that I've never tasted any more delicious Greek food in my life. Rob absolutely out-did himself.
Oh, last night was also one of our most well-attended dinners. At one point we literally had twenty-three people in the apartment, and every single one of them is a knitter. I can't begin to tell you how gratifying it is to have so many people excited about both the food and the knitting. We've really got a great group of people here in the Bloomington area, and I'm doubly proud that we have folks driving in from Brazil (near Terre Haute), Martinsville, and Columbus in the middle of the week for this event.
Thanks to everyone who came over last night, and thanks to everyone who is with us in spirit.
Don't forget to check out Rob's blog, Black Dog, for photos and descriptions of the evening's offerings.