Well, Rob beat me to the punch and wore his socks before I could get a good photo of them. Can't say that I'm disappointed, though. He really seems to love them. I'll post a photo as soon as I can get them washed and blocked.
In the meantime, Monday will be our Philosopher's Sweater Group get-together, so I spent a little time last night working on the body.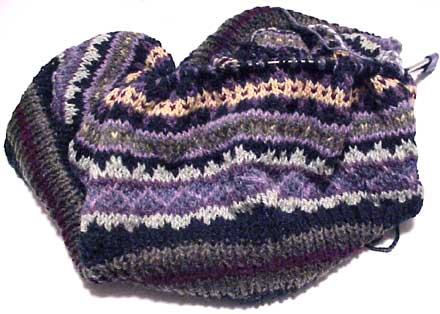 So far, I only have a few inches of the body done, but considering it's fifty-some-odd inches around (I did measure the chest to figure out how many stitches I needed, but I've long since forgotten the measurement), I'm making decent progress. Besides, both sleeves are done. The method suggested by Ann Bourgeois of Philosopher's Wool has you work your sleeves first to establish your gauge and colorway.
The colorway is my own, but the pattern is their Colour Your Own, so it made sense to me. A couple of other knitters in our Philosopher's Group are currently working on their own versions, so I'll have to see if they're interested in posting pics of all of our sweaters. They're all gorgeous, but each is different.
Of course, we have folks doing other patterns, as well. Again, I'll try to get pics Monday if they're amenable.